1. Less editing time
Incorporating high-quality maps from MapServe® into your workflow can significantly reduce the editing load for architects. These highly detailed maps describe site elements in a straightforward and accurate manner, allowing you to make well-informed design decisions from the start. The need for substantial post-design revisions decreases as there are fewer ambiguities and conflicts. This effective mapping system saves architects time, reduces errors, and promotes a more seamless design process overall.
'The website is very easy to use and I am always confident that the data I purchase will be accurate.'' (Gareth, G Force Surveys).
''Fantastically straightforward to use. Really high-quality DWG files!'' (Jack Gilligan, Tarmac)


OS MasterMap® provided by MapServe®
2. Easily identify and locate each project's map
On MapServe® we create each plan with the location name as the file name e.g.1-Acacia-Avenue-Anytown-AB1 1AA. This streamlines future retrieval of purchased maps, saving you from having to trawl through many orders. Accessing a specific map becomes simple and quick with the place name clearly apparent in the file name. Additionally, it's possible to customise file names with coordinates, geographical names, or exact locations.

3. Outline the boundary of a property in one click
MapServe® offers a practical solution for property boundary delineation through our autoboundary and feature tools. Drawing on reliable Land Registry data, you can seamlessly outline property boundaries with precision and ease. You can adjust the outline of the area you require, to exactly suit your project. The autoboundary tool, swiftly generates boundary lines, simplifying the process of selecting the desired area. Additionally, the feature tool provides a practical alternative, allowing you to mark out property boundaries.
''All plans downloaded come with a scale bar and north point and are ready to use as part of a planning application.'' (Tanveer RM, Manchester)
''Fast and user-friendly interface.'' (Lorna, Mclean Quinlan Architects)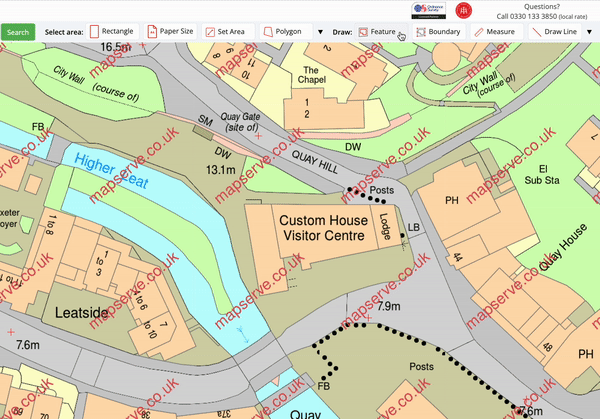 Automatic boundary tools on MapServe®
4. Save your areas for future orders
The save area tool on our website is intended to improve simplicity and versatility. As a user, you can conveniently highlight and save your selected areas for future reference and ordering using this tool. After carefully considering our customers' feedback we designed this tool that accommodates the user's schedule by allowing them to return at their leisure to complete their order. It also enables you to keep a wider map selection saved to your account whether it's for timing, further evaluation, or matching with project milestones.

Save area tools on MapServe®
5. No need to wait for measured topographical surveys
MapServe's 3D MasterMap® has proven to be a great asset in speeding up the process of creating complete viability studies of new projects. In contrast to the conventional waiting period for a precisely executed measured topographical survey, 3D MasterMap®' can provide you with quick access to accurate and up-to-date spatial data. This allows for the seamless integration of real-world context into your design endeavours, allowing you to analyse terrain changes quickly, determine the best site locations, and assess prospective problems with pinpoint accuracy.
''The mapping is easy to use and to find the required information. The additional features like the house levels have saved me a lot of time and money as I did not need to do a level survey.'' (Malcolm Scott)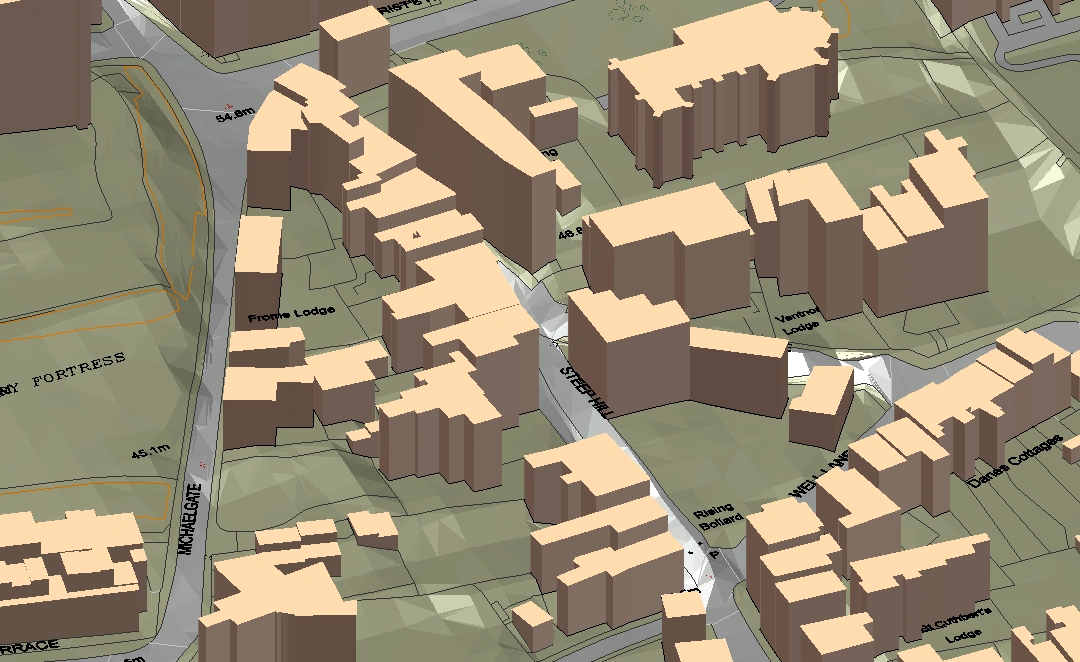 MapServe®'s 3D MasterMap®
6. Design & access statement maps created quickly
MapServe®'s site analysis map is the newest addition to our range of mapping and is specifically for use in Design and Access Statements (D&A Statements). As architects, we know that searching through various resources to locate the data you need can be very time-consuming. With this tool, you can effortlessly inject your work with rich contextual understanding by leveraging the comprehensive spatial data provided using our site analysis map. This interactive map provides site information ranging from transit networks to health institutions. This can enhance your ability to distill complicated geographical findings into compelling narratives, emphasising the compatibility of your architectural ideas with the local environment, enhancing the D&A statement development process, ensuring that your projects stand out as intelligent and contextually sensitive additions to their surroundings.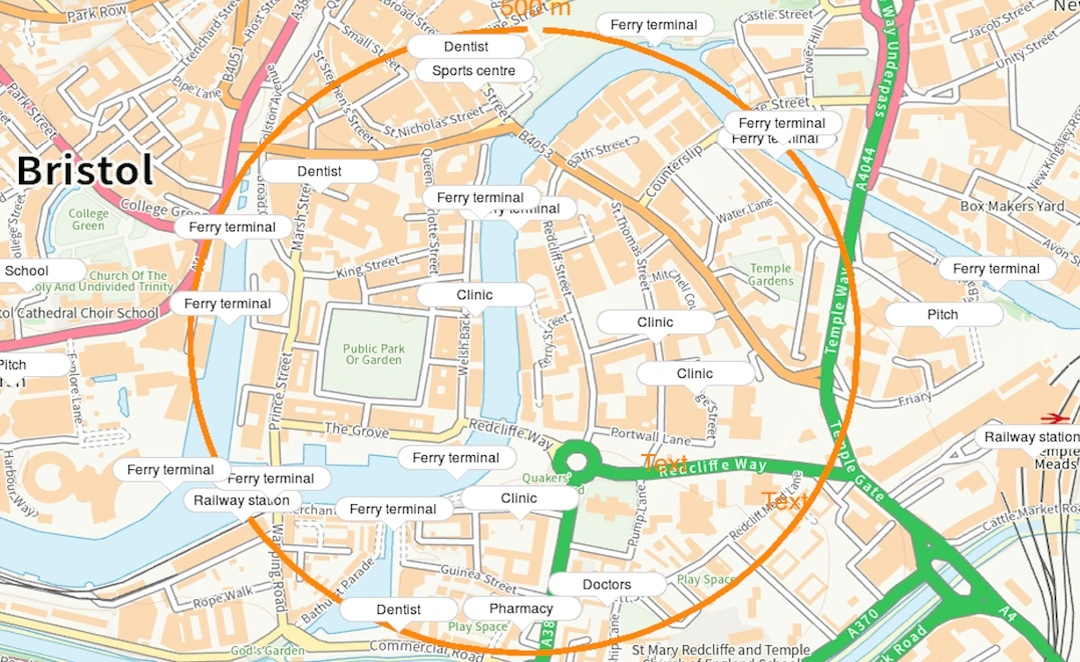 7. Massing studies and draft models within hours
The use of 3D MasterMap® in the field of architecture efficiently expedites the process of creating 3D site models and conducting complete massing investigations. This powerful tool converts real-world data into precise and immersive visual representations, saving significant time formerly spent on labour-intensive sketching and modelling. However, its influence extends beyond efficiency. 3D MasterMap® allows for more vivid conceptual visualisation, allowing you to showcase your ideas to clients in an engaging manner. This improved visual communication promotes faster client approvals because your clients can easily grasp the design concept and envision the ultimate result.
Additionally, the tool assists in determining excellent sites for critical focal points within a project, using the existing environment to create areas that naturally capture attention and contribute to the overall design story. 3D MasterMap®, in essence, emerges as a practical and creative asset, easing procedures and elevating design precision in the dynamic world of architectural innovation.
''Super easy to use with a simple workflow that lets me very quickly locate, polygon around a site and export in a minimum number of clicks. A huge time saver compared to other options.'' (Andrew, APK Architecture & Design Ltd)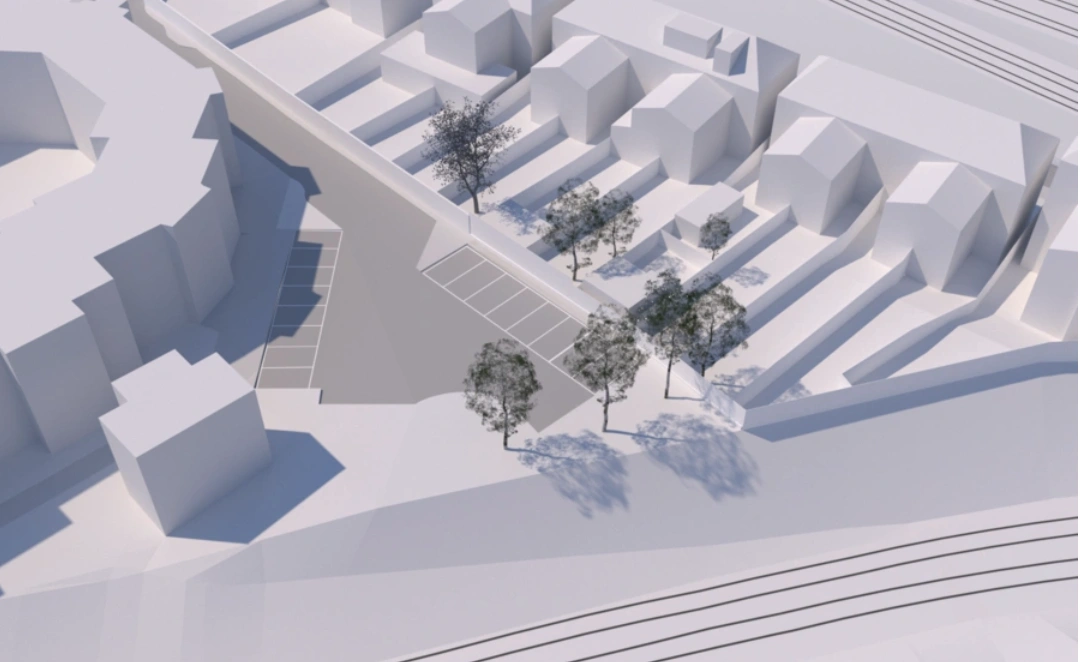 3D model created by Aubrey Architects Ltd, using MapServe®'s 3D MasterMap®
8. Quicker client quotes
The incorporation of constantly updated and comprehensive Ordnance Survey maps emerges as an indispensable instrument in the architect's profession, permitting hassle-free and speedy project quotations for clients. With these precise maps, as an architect you can receive a comprehensive picture of the project site, allowing for a thorough evaluation of aspects such as terrain, proximity to facilities, and transportation networks. On MapServe® we have tried to keep the user in mind whenever we update the features of our website which is why you can download your map in just 2 minutes vs other OS mapping suppliers such as Promap. This leads to a faster quoting process in which you can safely present clients with realistic estimates that reflect the numerous subtleties of the project's geographical setting.
''I used to use Promap, which kept changing and getting more and more difficult to use. MapServe has always been helpful and provide great services.'' (Max, Knightley Architecture)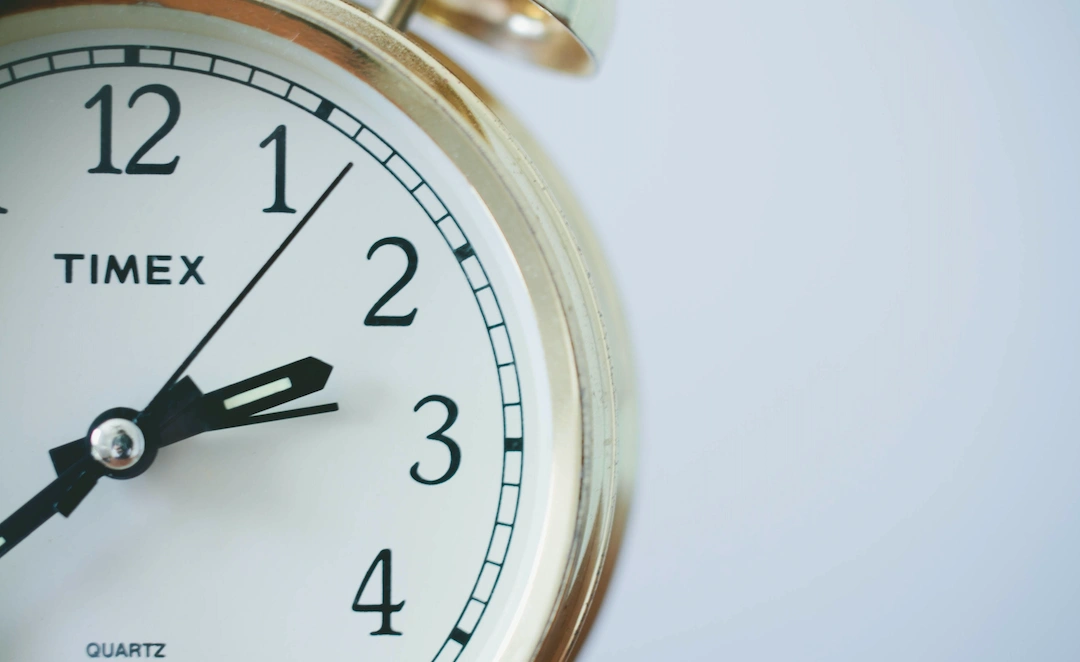 9. Research previous land uses
The incorporation of OS historical mapping emerges as a critical resource within the architect's toolkit, avoiding the need for lengthy searches through council archives, relying on customer recollections, or sifting through various web sources. This can provide you with instant access to a variety of historical land use and building data, allowing you to navigate through the archives of time with ease. You can gain an understanding of a property's evolution from its inception to the present day by simply looking at our detailed historical maps. This simplifies the process of establishing the earlier land use or building history, enhancing your ability to make educated design decisions based on a rich historical context.
'Simple to use and plenty of useful features, particularly the recent addition of old maps. Highly recommended.'' (Tim Deacon, Architect)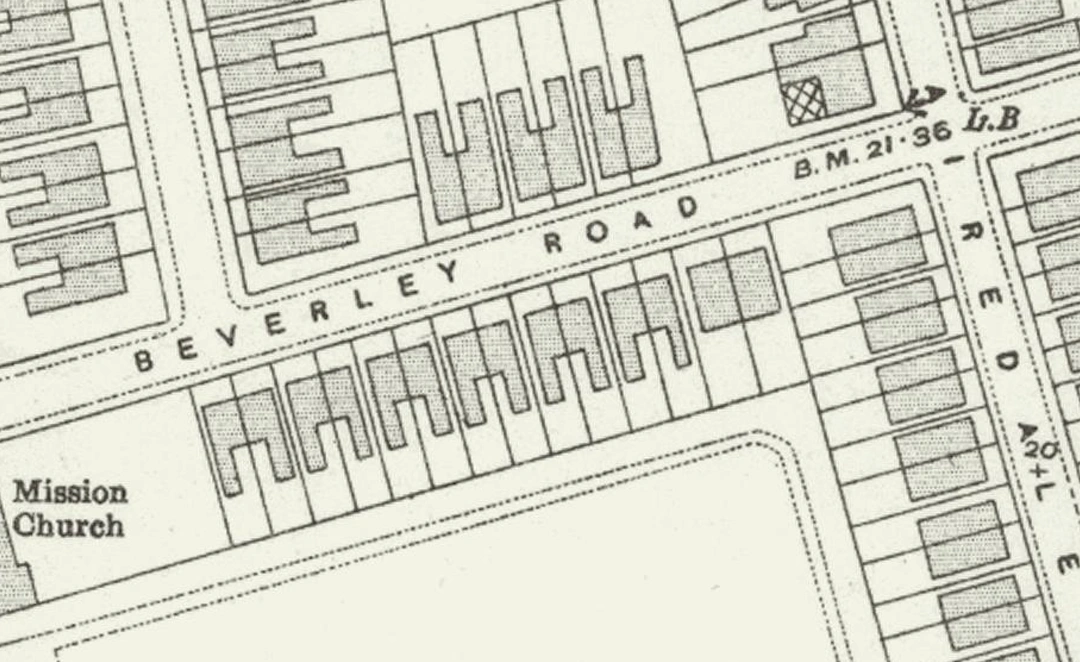 OS historical map provided by MapServe®
10. Calculate a property's perimeter and area at the push of a button
Users, like architects and other professionals, can easily calculate the perimeter and size of a property using MapServe®'s handy measure tool. This tool provides a quick way for determining these critical metrics with the simple touch of a button. You can easily trace the property's boundaries and receive accurate measurements, which can help with different areas of property appraisal and planning. It's a fast way for acquiring critical property measures, but it also allows you to determine bespoke regions or distances drawn manually.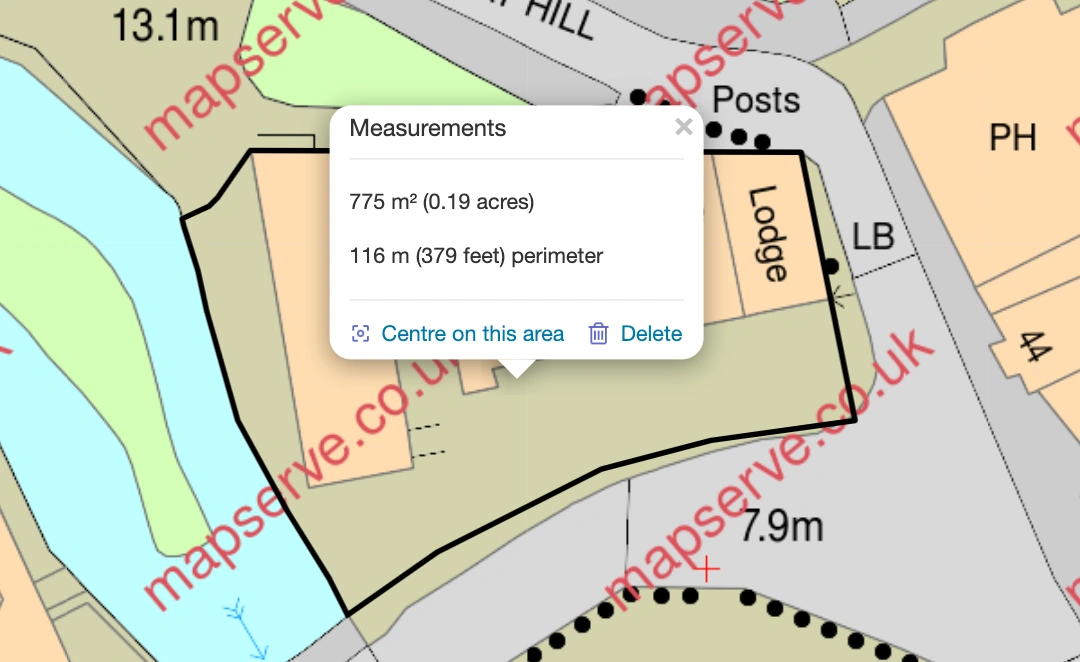 Measure tool on MapServe®