Planning applications increased in England and Wales
Even though the pandemic is still in place, planning application submission numbers have seen an increase over the last 5 years. In the graph below (Graph 2) you are able to see how the submissions have gone up since 2016. As August was the key month for taking leave during the school holidays, the expected decline in the application numbers took place. However, the numbers only fell by a small percentage and we can notice that there has been an increase of 8% in application compared to August 2020. The pandemic may have an impact on application submissions, such as the necessity for home office space, therefore it will be fascinating to see how this plays out in the next four months of the year. Although the building industry was greatly affected in many ways by Covid 19 it is predicted that a record number of applications will be submitted by the end of the year as they are already exceeding 500000, an increase since 2020.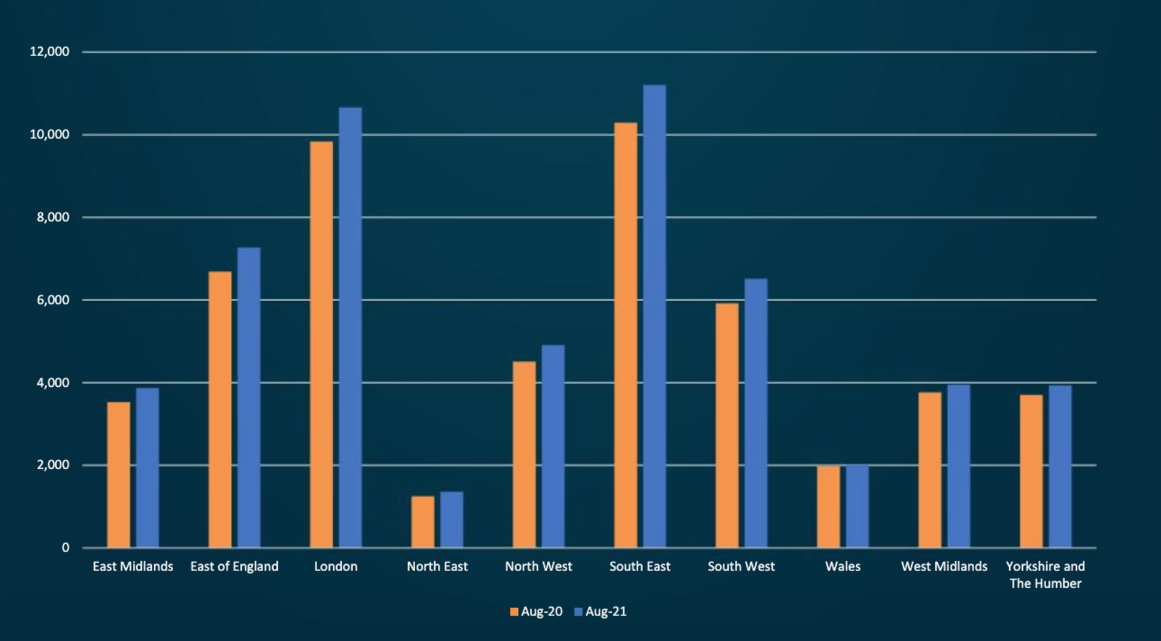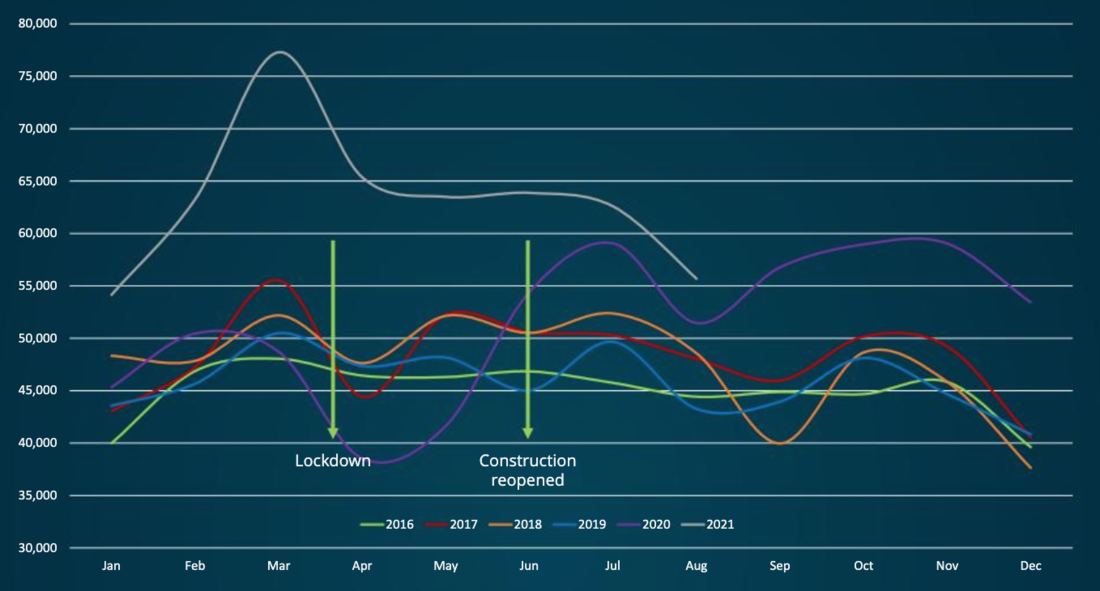 Graph 1. August 2020 vs August 2021, ©Planning portal Graph 2. National graph over the last 5 years, ©Planning portal
When comparing August 2021 to August 2020, all regions, including Wales, show a positive percentage growth. This displays the general month-to-month growth in submissions between 2021 and 2020. The South West and East Midlands have had the greatest increases (10%), while Wales has seen the smallest (2%).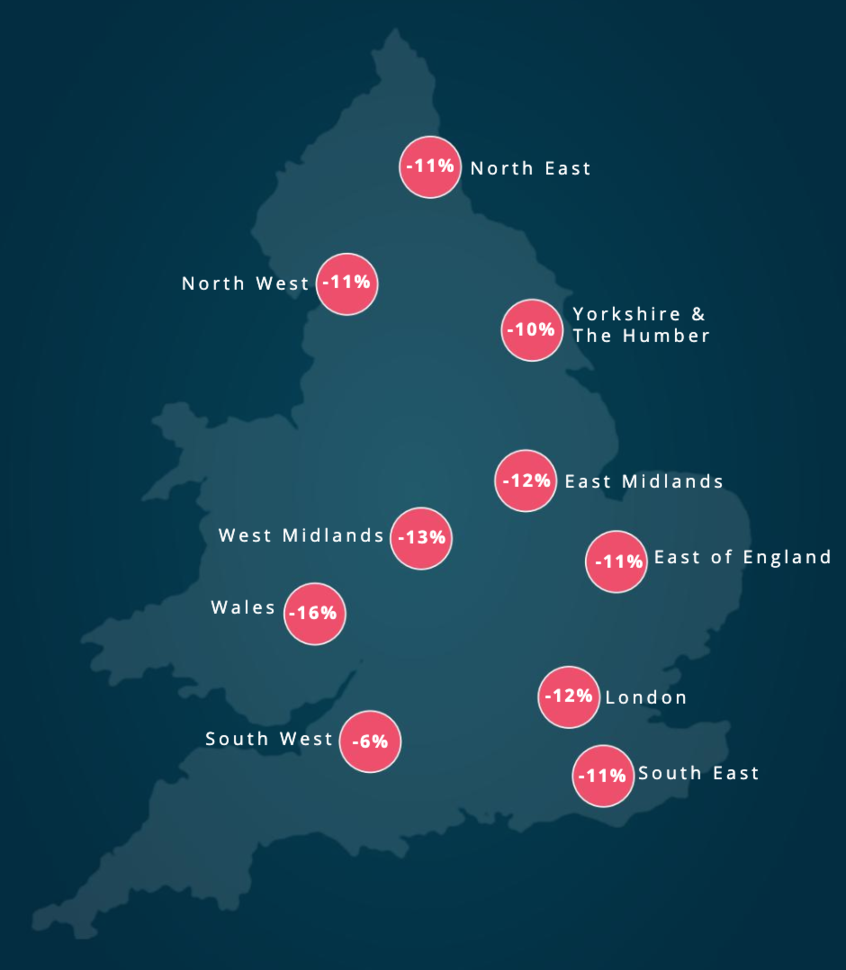 Percentage change in applications between July and August 2021
©Planning portal
Planning authorities in Wales
Wales has 25 local planning authorities of which 22 are unitary bodies, and 3 are national park authorities. When looking at application submissions in Wales over the last two years, they account for approximately 3.5 % of all online applications. Historically, the number of submissions has been fewer than in the majority of English regions. Wales suffered the same drop in submissions as the English authorities during the early phases of the pandemic, but when comparing total submissions from 2019 to 2020, Wales recorded an 8% rise. When comparing the first eight months of 2021 to the first eight months of 2020, submissions have increased significantly. Cardiff council had the most applications of any authority, followed by Swansea council and Carmarthenshire county council.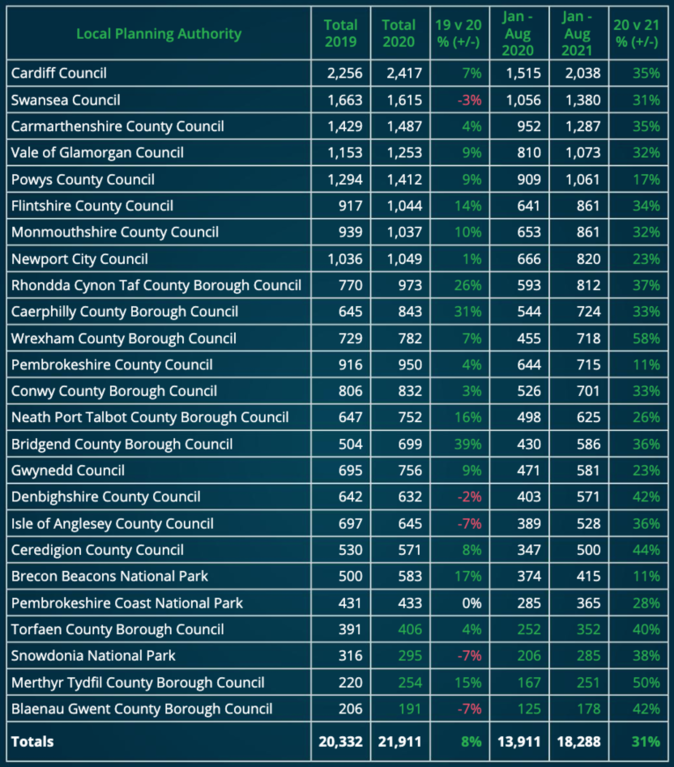 Number of submissions in Wales, ©Planning portal
Building control applications
Since March, a record number of projects have been submitted and processed, with some areas receiving up to 40% more applications than in 2019. This is due in part, to the number of people wishing to upgrade their homes to better suit their needs after spending too many long days confined at home because of the pandemic, and in part to the large number of people who have just completed property purchases as a result of the stamp duty holiday and its extension. This has naturally resulted in some processing and plan verification delays, but only by a couple of days.
This increased activity has had an effect on the availability of materials as well as qualified and skilled builders and contractors. That does not include all of the DIY projects being completed, such as decking, pergolas, kitchens, and bathrooms. The challenges around the supply and cost of resources affect not only the UK, but the whole world. It is mentioned that Britain is currently seeing the highest demand for building products in the last 30 years. Orders for windows, doors, and rooflights are being delayed by up to three months, according to homeowners. Some builders declare they are fully booked until 2023.

Significant changes in planning
The government wants to see more homes provided by speeding up the production of local plans and instituting a system that provides better clarity on where construction should take place. The following are schemes that were introduced in 2021.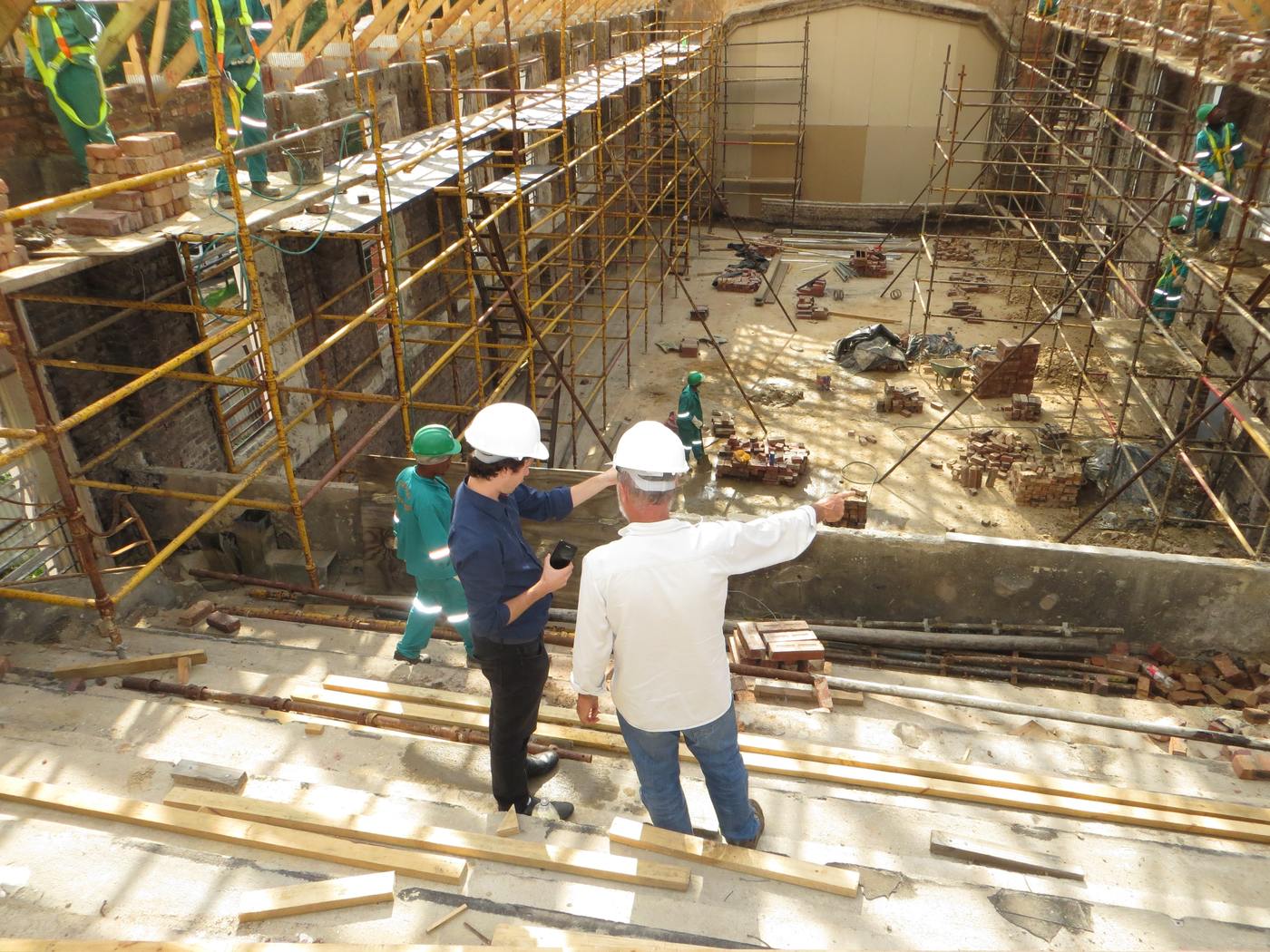 How the pandemic affected planning
It was extremely difficult to speak with planning officers and obtain conclusions on applications during the first lockdown. However, the process became smoother when employees embraced the introduction of digital communications and virtual committee meetings. This enabled people to interact quickly from all over the country.
Application Fees
The 8% increase in application numbers between August 2021 and August 2020 was matched by an 8% increase in planning fees. Last month, national planning fees totaled £23.21 million, a £1.7 million difference over the same period in 2020. The graph also shows 2019 revenues, which were approximately £350,000 greater than in August 2020 but approximately £1.35 million lower than in 2021. Fees tend to rise near the end of the year, therefore it looks like the overall 2021 planning fees are set to be significantly higher than the previous two years.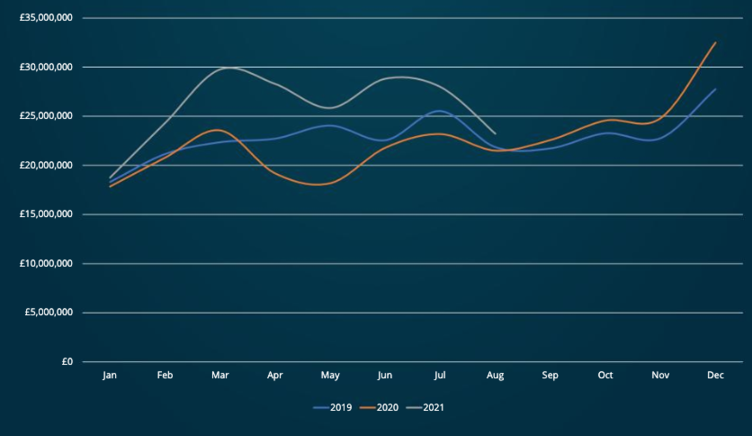 Planning fee income, ©Planning portal
Planning portal annual conference
This year's planning portal annual conference is taking place in November. You can register here. If you register until the 30th of September you have the opportunity to get an early access ticket. It is going to be a virtual conference lasting from the 15th until the 18th of November. Top speakers from all sectors and panelists will bring together a diverse group of delegates from the planning and building industries, including business leaders and influencers, to discuss the industry's most pressing issues, such as planning reform and the digitisation of the planning system, biodiversity net gain, carbon zero, and community enlightenment. These four days of presentations will provide a 12-hour CPD credit for everyone attending.
CPD helps learning to become aware and proactive, rather than passive and reactive - this is facilitated by the merging of vocational and practical qualifications into academic qualifications. It is a crucial component of continuing to develop oneself even after completing academic training. The value of continuing professional development should not be underestimated; it is a must for practicing professionals throughout their careers. You can also register for MapServe®'s free RIBA-approved CPD ''Mapping your way to better projects'' and learn all about new mapping and geospatial data relevant to architects. and how to select the correct mapping type in each stage of the RIBA plan of work.
All information provided by the
©
Planning Portal