What is a site plan?
A site plan, also known as a block plan is a diagram that depicts proposed changes to your land. A site plan is significant because it offers information about the landscape elements of a particular lot. It often depicts what is already in place on a certain property as well as what you want to construct on that specific location. This may entail, for example, constructing a garage on a certain property. If the site plans you need to create will be created in CAD format then you'll need to order the map in DWG or DXF format like these.
One of the most significant elements of a site plan is demonstrating the link between what is already there and what you intend to build. Site plans are generated in a variety of ways; they will not all be designed in the same way. This is due to the fact that different building authorities would have varied requirements. Some licences require you to engage a land surveyor, whilst others enable you to draught the plan yourself on graph paper. Before proceeding, you should check with your local authority for clarity on this topic.
What do I need to include in my site plan?
A site plan represents the layout of a property and its site. It comprises the positioning of buildings and structures, as well as other elements such as roadways, walks, landscaped spaces, gardens, pools and other sources of water water and sometimes trees, terraces, and other. It is usually prepared at a 1:200 or 1:500 scale.
You will need to include the following:
The size and location of the current building (as well as any intended expansions) in relation to the property border.
All public rights of way intersecting or adjacent to the site.
The location and usage of any other structures within the property's boundaries.
The extent and nature of any hard surfacing.
The location and width of any nearby roads or footpaths including how to access them.
How can I create a site plan using AutoCAD?
First you need to get a map of your property using a licensed and accredited provider. At MapServe® we offer OS MasterMap® which is the most up to date and detailed map of the UK. It is provided by the Ordnance Survey and it comes fully licensed to use in your site plan.
First you will need to register for an account on MapServe using just your email and a password. You can then search for the area that you want using one of the following:
Easting/Northing

Place Name

OS Grid Reference

Latitude/Longitude
You will then be able to download a map of your property and its surrounding area in CAD format. We offer both DWG and DXF formats in colour or black and white.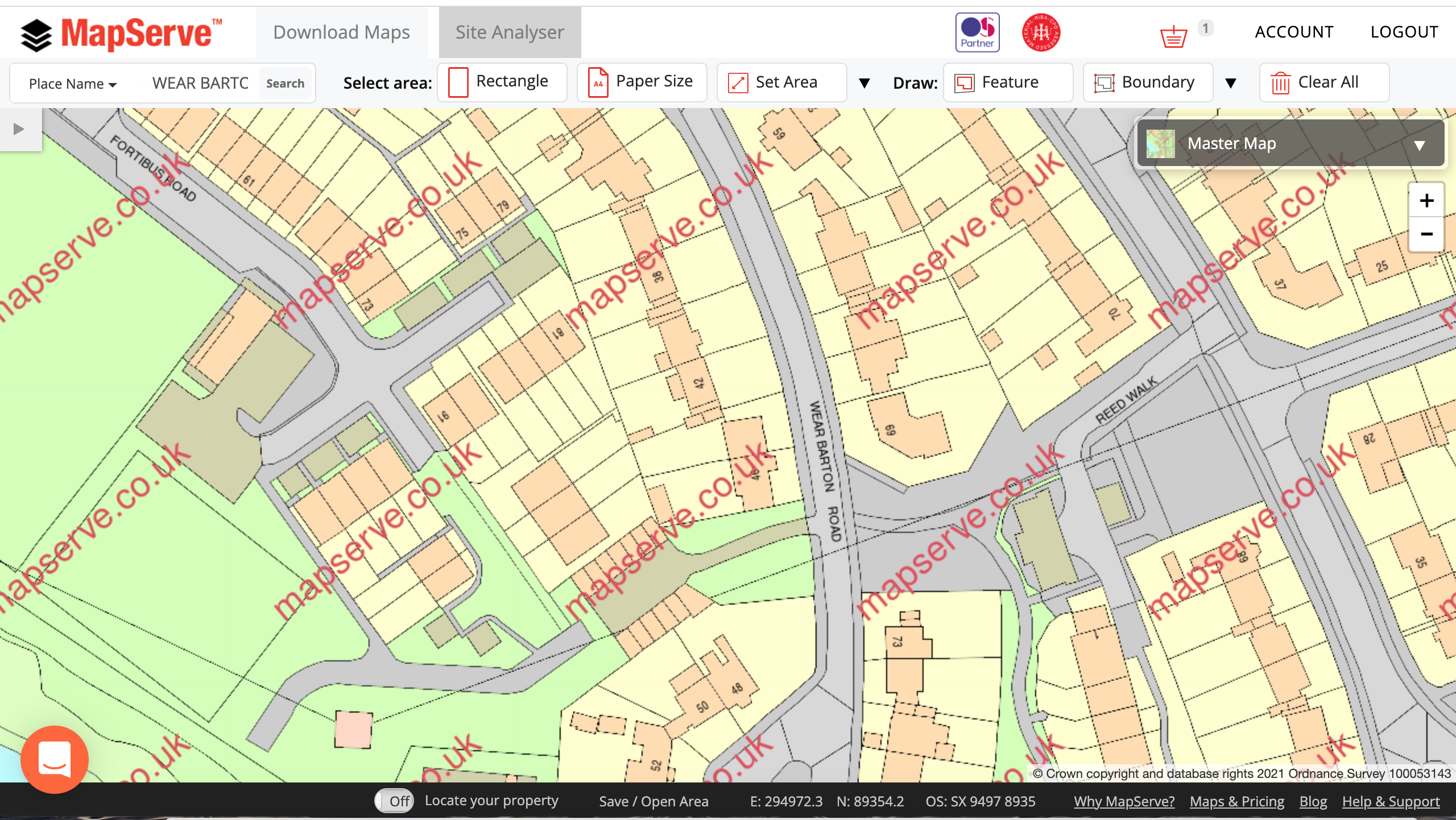 You can then select the correct scale for your plan using the Papersize tool. For a site plan it should be 1:200 or 1:500 but that can vary depending on your area.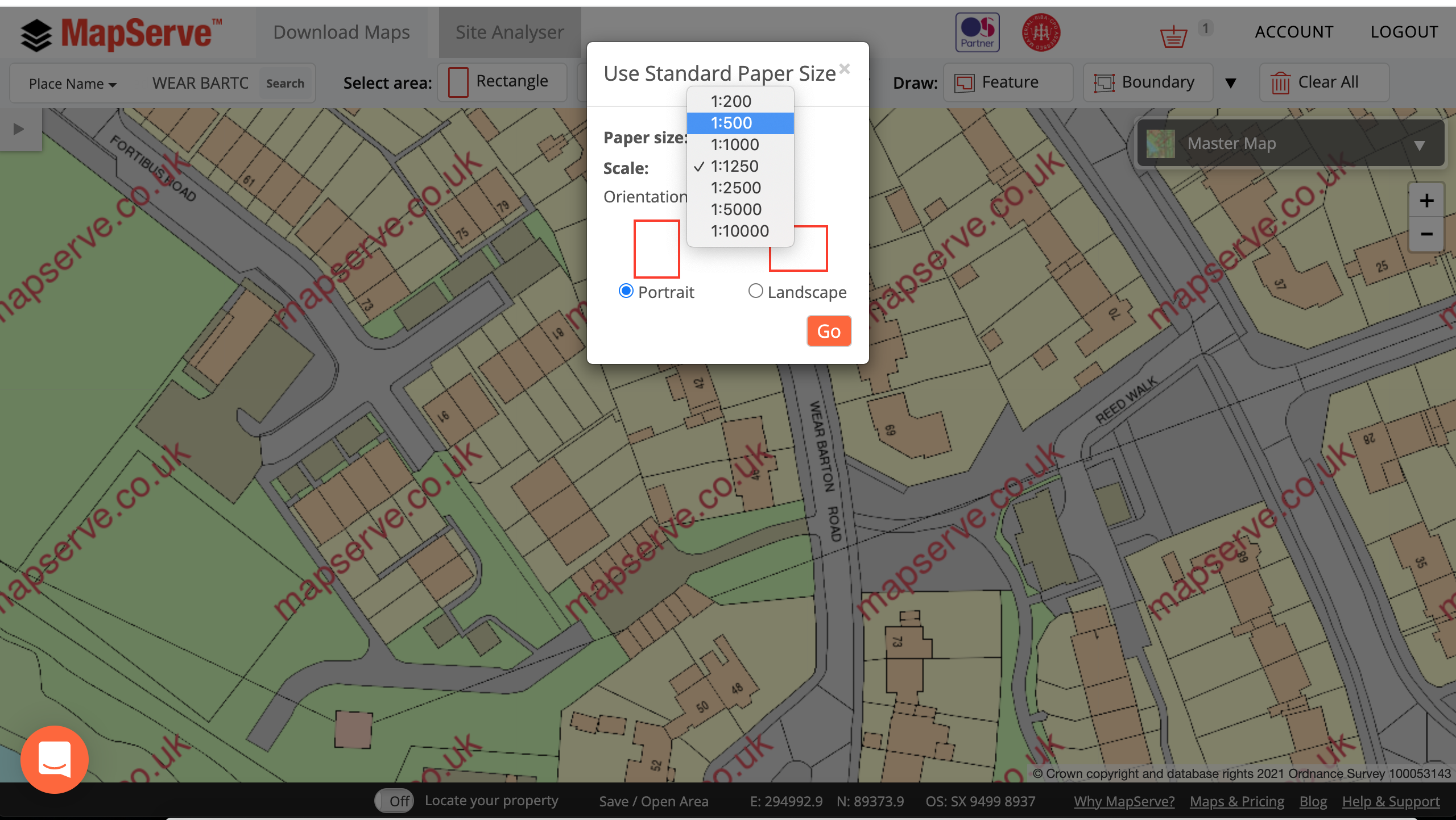 You can then choose the correct format from the drop down menu, in this case it will be either DWG ord DXF.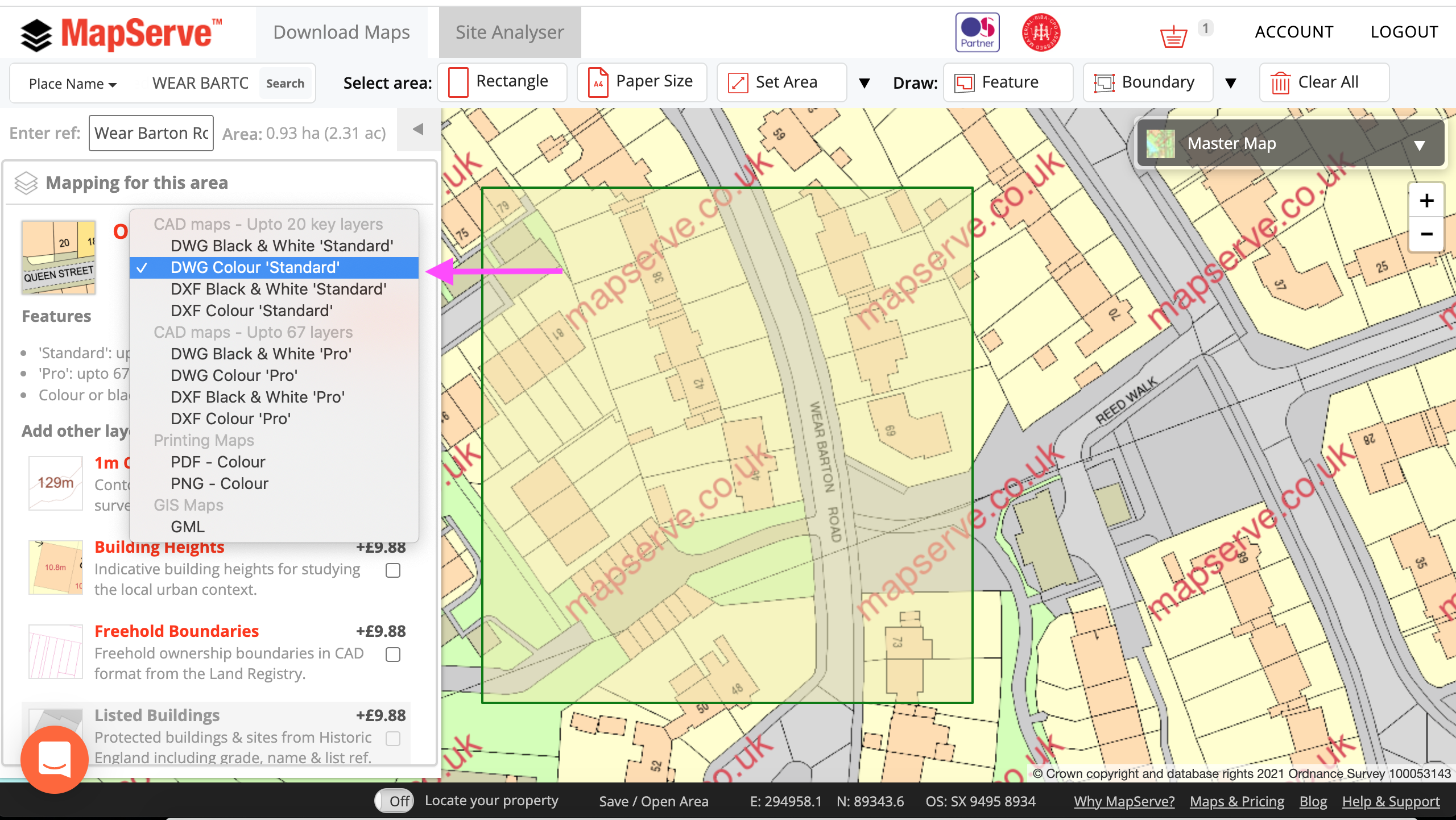 After purchasing the map you can upload it to your CAD software. In this case we are using AutoCAD Web. Our maps are suitable for all well known CAD software.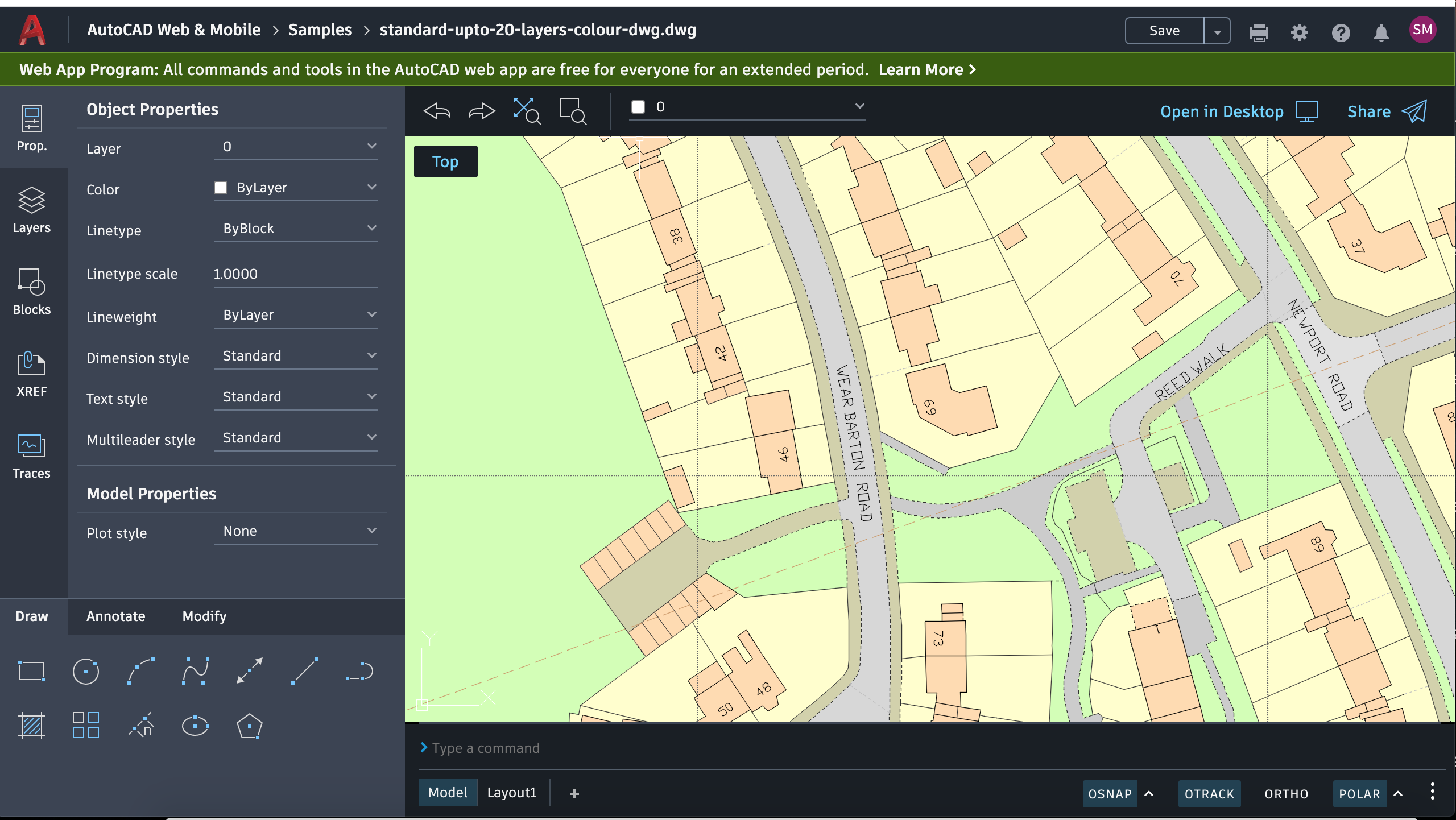 You can then draw on your plan using the drawing tool. You will need to outline the aspects of the property that you are doing the planning application for in red colour as follows.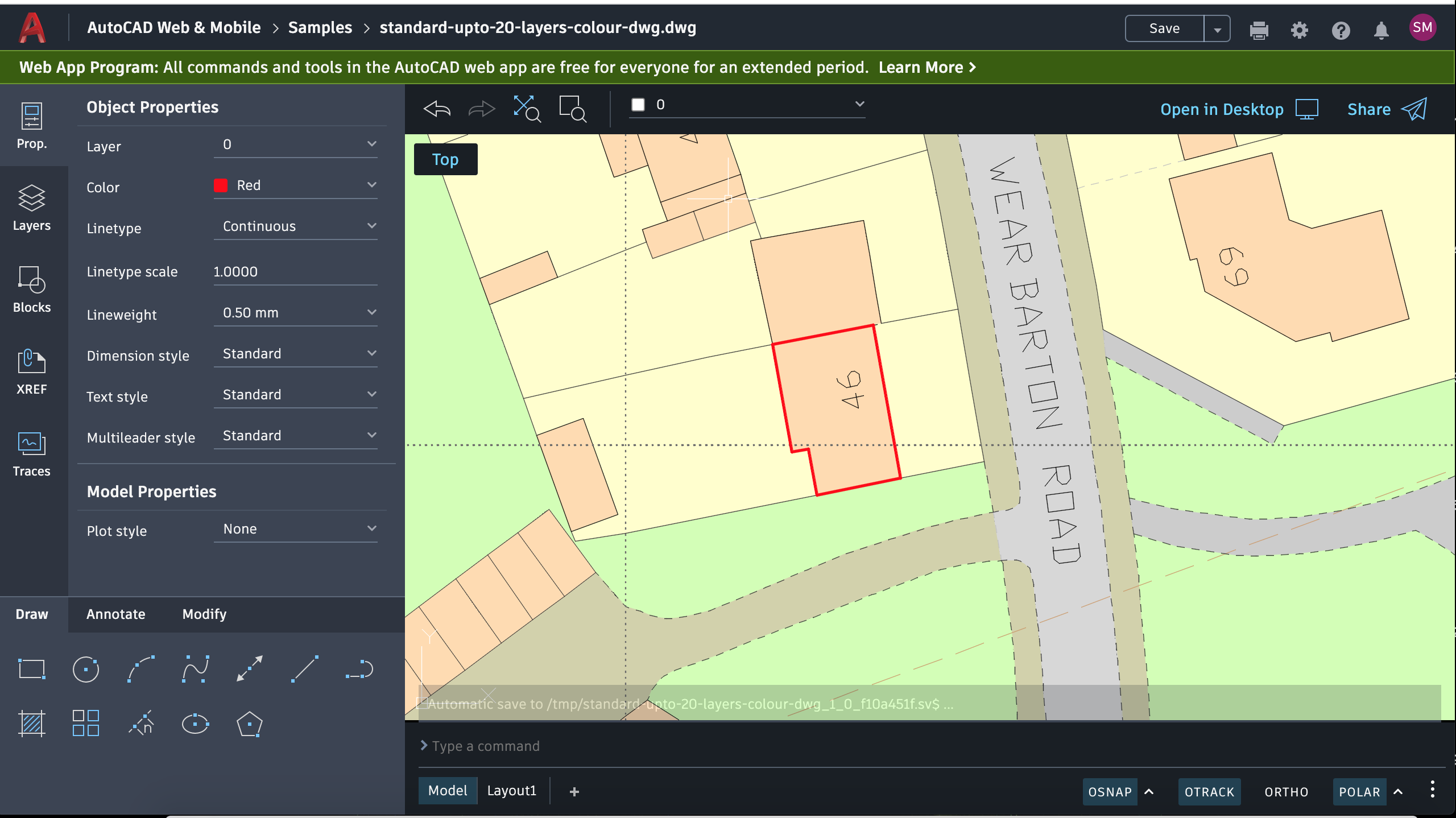 Now that the map is ready you will need to switch to Layout1.